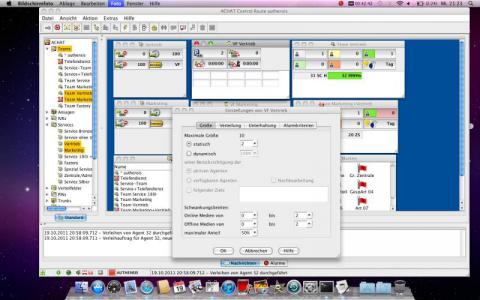 "Bring Your Own Device" (BYOD) moves to the center of public interest. Taking one´s own PCs or smart phone into the office as the personal working environment is a consequence of the particular intuitive operation, the diversity of functions and the cult status of the Apple products. Who wants to do without it at work?
The future security of the ACHAT Contact Center Suite is once again proven by authensis: All ACHAT clients are now available for Mac OS X, the Apple Operating System.
The design was adapted to Mac OS X specifics – e.g. the alarms for emergency situations in the contact center system are displayed in the top bar. Functionality and look and feel will remain. Thus, no re-training for administrators, team managers or agents is necessary.
All ACHAT clients can also be run in a mixed mode of Windows, Linux and Mac OS X, depending on the customer´s needs and preferences. They are available for the Apple operating system versions Leopard, Snow Leopard and Lion.
"The very low-cost port of the clients on Mac OS X shows once more the superior design principles of the authensis ACHAT suite," says Klaus-J. Zschaage, CEO of authensis AG.
The provision of ACHAT for the Apple Mac computer was the next logical step after developing the authensis ACHAT iControl App to monitor the contact center operations by mobile managers and team leaders. The App will be published shortly in the Apple App Store.