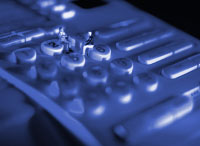 The ACHAT modules organize the workflow and support the management of service quality in the call and contact center.
Independence from platforms and media types: ACHAT interfaces with the communication hardware through open standards (CSTA, SOAP, IMAP4, POP3, SMTP) and can be used in heterogeneous hardware environments as well. ACHAT can be integrated into switched telecommunications environments as well as into VoIP communication infrastructures. The communications transactions using different media types are treated equally.
A vast variety of adapters connect different leading WFM, IVR, CRM, ERP and other products to ACHAT.
The extraordinary flexibility of the own German development and service team yields fast and individual customization e.g. to integrate ACHAT into proprietary customer solutions.
High product stability, reliance and security is proved every day by many leaders of vertical markets relying on authensis products and solutions. Data security for example is guaranteed by the highly proprietary storage format of statistical raw data. The option of redundant components could increase the up time even further.
The storage of each single event in the contact center yields an unbeatable flexibility in generating individual criteria to control and drive the companies´ communication.
authensis ACHAT is freely scalable. It could start with 10 agent seats and could grow up to 500 agent seats assigned to one switch. ACHAT can be connected to networks of switches, too.
ACHAT includes built in diagnostics, detailed tracing capabilities and self-repairing features. It provides the customer and / or the sales channel with on site alarms or remote notification of system failures.
Customers can build a contact center infrastructure by starting with a simple, cost-effective product, and can then add modules according to their needs.
Profound branch-specific technology know how of authensis: authensis already has more than 100 large installations in ten European countries and in the U.S. with large variety of projects of different sizes and complexity. The main vertical markets include banking and insurance companies, mail order houses, telemarketers, market research companies and the industry.
authensis developed many partnerships with companies offering supplemental and specialized products in the contact center field. So, every customer gets his individual solution, which is highly optimized according to his business processes and his requirements.